Sovereigns
George IV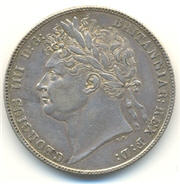 George IV was King of the United Kingdom of Great Britain and Ireland and of Hanover following the death of his father, George III, on 29 January 1820, until his own death ten years later. George IV had previously ruled as Prince Regent from 1811-1820 due to his father's mental illness.
George was married to Caroline of Brunswick and they had a daughter, Princess Charlotte, who died following the birth of a stillborn child. As the second son of George III (Prince Frederick) was childless, following the rules of the monarchy on his death George was succeeded by his brother, William IV.
Note that on coin, George IV is often written as Georgivs IIII.
1821 Gold Sovereign

Mintage: 9,405,114

1822 Gold Sovereign

Mintage: 6,356,787

1823 Gold Sovereign

Mintage: 616,770

1824 Gold Sovereign

Mintage: 3,767,904

1825 Gold Sovereign

Mintage: 4,200,343

1826 Gold Sovereign

Mintage: 5,724,046

1826 Gold Sovereign Proof

Mintage: 450

1827 Gold Sovereign

Mintage: 2,266,629

1828 Gold Sovereign

Mintage: 386,182

1829 Gold Sovereign

Mintage: 2,444,652

1830 Gold Sovereign

Mintage: 2,387,881
Sovereigns