Sovereigns
George III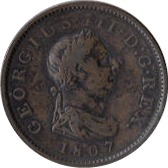 Born on 4 June 1738 to Frederick, Prince of Wales and Augusta of Saxe-Gotha in the house of Hanover, George III reigned for over 59 years.
George had 15 children - nine sons and six daughters. In the latter part of his life George suffered from a mental illness and his son George became Prince Regent from 1811-1820 and ruled on his behalf. On George III's death, the Prince Regent became George IV.
Note the latin spelling of George on his coins: Georgivs.
Sovereigns