back to Gold 5 Pound Coin list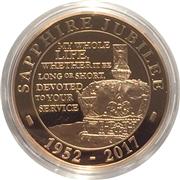 To commemorate Queen Elizabeth II's Sapphire Jubilee, the Royal Mint has issued a new gold proof five pounds piece £5.
The reverse design by Glyn Davies marks the Queen's 65th anniversary on the throne.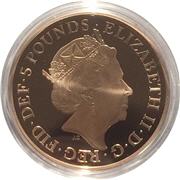 Queen Elizabeth II's fifth portrait by Jody Clark can be seen on the obverse of the new £5.
The coin is made of solid 22 carat gold, and weighs 39.94 grams.
The gold proof £5 piece would originally have been delivered in a wooden presentation case, with a certificate of authenticity (COA).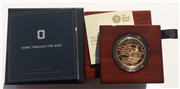 Only 650 pieces were produced by the Royal Mint, selling out in record time!

Mintage: 650 (may include coins issued as part of a set). Minted at The Royal Mint.
In the Year: 2017
A UK June General Election results in a hung parliament. Prime Minister Theresa May confirms "Brexit means Brexit" as the UK continue negotiations to leave the European Union (EU). Donald Trump is inaugurated as the 45th President of the United States of America and Mike Pence as the 48th Vice President. President Xi Jinping heralds a "new era" for China. New 12-sided pound coin introduced into the UK. BBC announces the first ever female Doctor Who will be played by Jodie Whittaker. Leonardo da Vinci's painting "Salvator Mundi" sells for $450.3 million at auction in New York, a world record price. Prince Harry and Meghan Markle announce their engagement. Australia take an unassailable 3-0 lead against England in the Ashes. Bitcoin makes the headlines as the cryptocurrency rises over 1000% during the year.
Do you want to buy or sell a 2017 Gold Proof Five Pounds Piece - Sapphire Jubilee? Selling to M J Hughes Coins means that you do not have to pay sellers fees, Paypal fees or any other transaction fees. They will give you an immediate offer and pay you the same day. Single coins or entire collection. Buying from M J Hughes Coins gives you a money-back guarantee of authenticity. Visit http://mjhughescoins.com.
back to Gold 5 Pound Coin list
---

On eBay UK:
---
---
On eBay USA:
---
---